Private sector mortgage insurers have achieved a strong performance YTD, but still offer compelling value and investors should remain long.
YTD, MGIC Investment Corp. (MTG) has returned 40.6% to investors and had returned 455% since the end of 2012. The returns from MTG's close peer Radian (NYSE:RDN) for these periods are 16% and 265%. This analysis focused on MTG but broadly applies to RDN as well.
Yet, still, these stocks are on modest PEs when we consider them in the context of the US stock market and opposite other financial sector stocks. Here is MTG's PE ratio based on consensus forward earnings projections. the chart shows the stock to be on 11x 2019 EPS.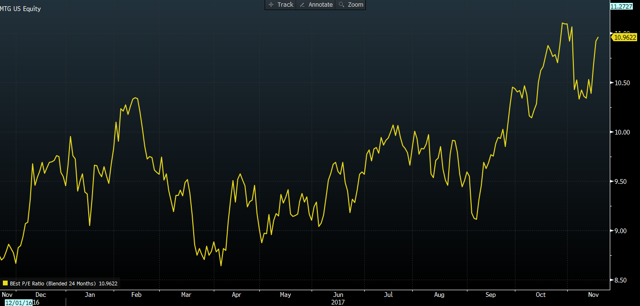 Bloomberg
The forecasts behind this PE value are too conservative. Current market consensus envisages a bottom line of $458m for 2017, growing to $485m by 2019, which is just 6% growth through the two year forecast time-frame.
Consensus expectations for the top line are healthier, with the market looking for 6% growth in 2018. Such a clip should easily continue in 2019 assuming the US economic expansion remains on track. Why's this a reasonable assumption?


Company Data
As we see in this extract from the 3Q report, insurance in force is growing around 6%, which is the kind of expansion one would expect from present growth in the US's nominal GDP. MTG's premium income growth over time will reflect this volume expansion in the in force business, circled in red in the table above. We can also expect a further small boost to revenue from stronger investment book yields, assuming the Fed holds to its course.
For a ~6% expansion of top line growth to deprive MTG of a similar rate of bottom line growth, a cost item or items have to growth faster than the top line.
MTG's management of its expense base has always been strong. What might grow suddenly as a cost item is its provision, or losses incurred, expenses. I strongly believe this won't happen absent a recession in the US.
What we also see in the table above is that primary delinquent inventory, which is lapsed insured mortgages, fell 20% Y/Y in 3Q. See the blue circle.
This drop in the amount of new inflows of delinquent mortgages insured has allowed MGIC's cost of risk, see in its additions to reserves line, collapse dramatically from $80-90m a quarter to the current sub-$30m level of cost. See the table below.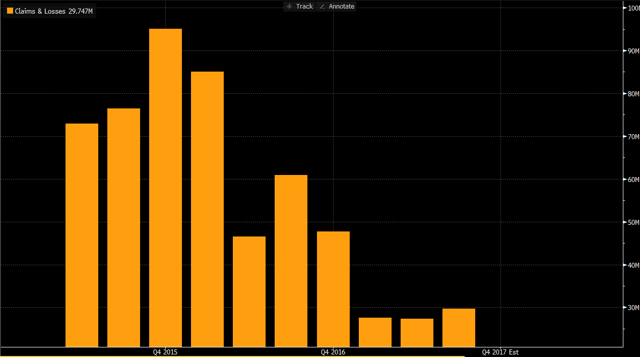 Bloomberg
There is no reason to expect this to come back to anything like the previous strength without a material deterioration in wider economic conditions. Even then, MTG would be far more resilient than in the past due to the change in the credit quality of its borrowers.
And MTG is still building conservatism Q-Q. Below you can see how over five quarters the top FICO bracket of insured borrowers had grown from 48% of the Risk In Force to 51%, and the lowest FICO bracket in the table (FICO 659&<) has dropped from 12% to 10%. The latter category is more likely to produce defaults than the higher categories.

Company Data
This means it's worth considering MTG in a scenario under which its losses incurred remain at the current levels, supported by incremental improvements in the quality of new risk and the overall RIF book.
Here's 2019 on this prognosis: Revenue of $1.2bn, expenses of $186mn, losses incurred of $130m (allowing $10m more than the current annualized rate of $120m). This would give us pretax of $950m and a 35% tax rate would leave net income of $617m, some 27% north of the current consensus punt on the bottom line.
Sell siders are afraid how good this stock might be, and will upgrade incrementally. Here's the recent movement in consensus earnings for FY 2019. As we see, consensus is moving along the lines we are discussing here.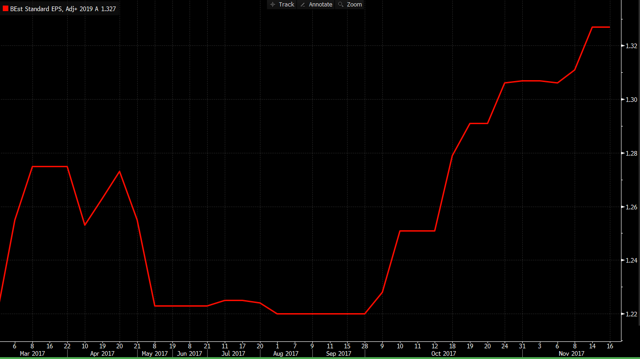 Bloomberg
Dividends?
Investors looking for capital appreciation should buy MTG now. In addition to the strong EPS outlook and still-cheap PE, we have a stock that is returning to dividend distribution, having focused resources on building capital and debt rationalization for the last eight years. Here is an article from last year in which I look at the debt dynamics closely.
MGIC's risk to capital ratio has fallen again recently from 12.6:1 to 11:1. The company is now overcapitalized to the eye of this analyst. Consider the ROE of the business, which is about 14%, and the rate of growth of risk in force, which is what the capital backs, 6%. The bit in the middle between these two, should be finding its way back to shareholders. The pressure for this to happen will bring more investors to MTG and put it on the radar of income investors soon.
Disclosure: I am/we are long MTG.
I wrote this article myself, and it expresses my own opinions. I am not receiving compensation for it (other than from Seeking Alpha). I have no business relationship with any company whose stock is mentioned in this article.
About this article:ExpandAuthor payment: $35 + $0.01/page view. Authors of PRO articles receive a minimum guaranteed payment of $150-500.Tagged: Investing Ideas, Long Ideas, Financial, Surety & Title InsuranceWant to share your opinion on this article? Add a comment.Disagree with this article? Submit your own.To report a factual error in this article, click here