This December saw the first 10% drop in PayPal's (NASDAQ: PYPL) stock in the last year or so. But is this a dip to be bought or are there more serious issues threatening the company's growth?
A cyclical exit from tech companies, the company's stock price climbing too high too fast and even Bitcoin's potential to take over the world have been mentioned as reasons. Can these factors stop the company and cause a real correction or is it just some profit taking by investors who rely on P/E (which is indeed high) and are quite happy with an 80% jump in the last year?
The short answer is no.
There are simply no signs of slowing growth, quite the opposite. The latest management moves and the overall environment are not only favorable but actually improving for the company and its future guidance seems conservative to me. Here's why.
Last month saw the company solve one of the issues that had caused concern among investors – its PayPal Credit unit. That unit has so far been a source of growth and is part of the larger puzzle that PayPal aims to become – a payment company that can not only handle every type of transaction that you'd want but also a one-stop shop for anything money related.
But there was a caveat: PayPal Credit is susceptible to downturns in the economy and any unreasonable exposure could turn into something between a nuisance and a disaster. The board was well aware of this and engineered a deal with Synchrony Financial (NYSE: SYF) worth $6.8 billion, with the latter acquiring the U.S. receivables portfolio together with a profit-sharing agreement.
Not as sexy as monetizing Venmo (we'll get to them in a minute) or riding the huge mobile payments wave, but it's a great old-fashioned corporate deal that ticks the boxes on what needed to be done. It not only limits risk but also frees up capital (to the tune of $1 billion annually) that can serve other purposes.
One of these other purposes is partnerships and expanding the network of merchants and companies that utilize PayPal. Two of the most recent ones also are targeting what I think is the most important metric – transactions per account (which stand at 32.3 per year as of Q2 in 2017).
The millennial investment app Acorns now allows users to use PayPal to transfer money both ways, as well as monitoring their portfolio and tracking their investments through PayPal. A partnership with a European "deposit marketplace" called Raisin also was announced and although both will not have an immediate effect on the bottom line, they are aimed at getting more of the bread and butter transactions that the company will rely on – set-and-forget payments or transactions completed with several taps in a single app.
Talking of single apps and ease of use, PayPal's One Touch has allowed the company to tap in the shift to mobile payments that we see across society. As of November 8th, six million merchants utilize it (around a third of the total) and 70 of the total 218 million active accounts have registered with it.
Mobile payment volume was $40 billion in Q3, over 50% growth on a yearly basis with mobile payments making just over one-third of the total payment volume. The course is set and the means to take more of the projected share are in place.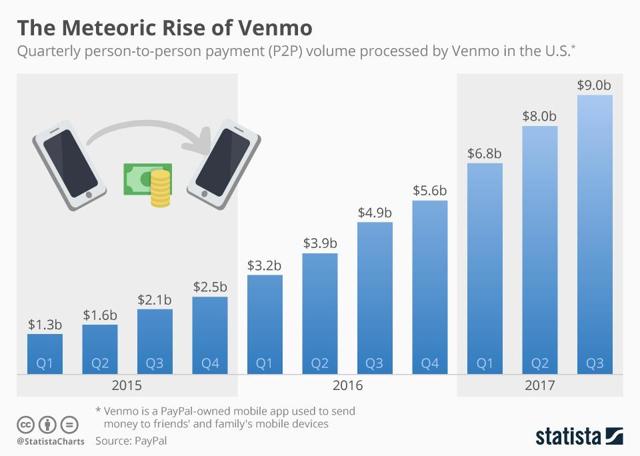 Source: Statista
About Venmo. I don't think it's the game changer that many in the PayPal investment community think it is. It's growing for sure but for me it is yet unproven and is the one point where Apple Pay (NASDAQ:AAPL), Samsung Pay (OTC:SSNLF) and potentially Square (NYSE: SQ) can actually land a punch. $9.4 billion in transaction volume last quarter and making it available in around two million U.S. retailers are signs of a growing business, but whether it will be used for retail purchases by its user base remains to be seen. I could be surprised on the upside in the coming 3-6 quarters. But as long as the company isn't revealing the number of its users I won't be holding my breath and including this in the factors that can contribute to sustained growth.
Another partnership announced recently requires far more attention than it's getting. Baidu (NASDAQ:BIDU) announced recently that they will offer PayPal as an option to its users and this could be the gateway for the payment provider to establish a beachhead in a market that's already focused on mobile payments.
Right now it seems like nothing more than said beachhead, as Baidu has a very small percentage of mobile transaction volume compared to its competition. But if PayPal is truly a superior product and if it allows Chinese consumers to buy imports more easily (which they have been doing – $60 billion in e-commerce payments for 2016) it should carve out a solid enough niche to create a steady and sizeable income stream within several years.
Not that all these developments are unnoticed by investors, or are unaccounted for in the company's projections. But it looks as if they're being understated due to caution and trying not to overreach.
Conclusion: A 21% increase in earnings and 20% for revenue is a solid enough forecast but I think we'll see that these will be lower than what we actually get. User growth has been in the mid-teens and will probably remain thereabouts. But it is merchant growth where I think the network effect will surpass expectations in 2018 and directly impact the bottom line and the stock price. With these in mind I am placing my target for next year at $96.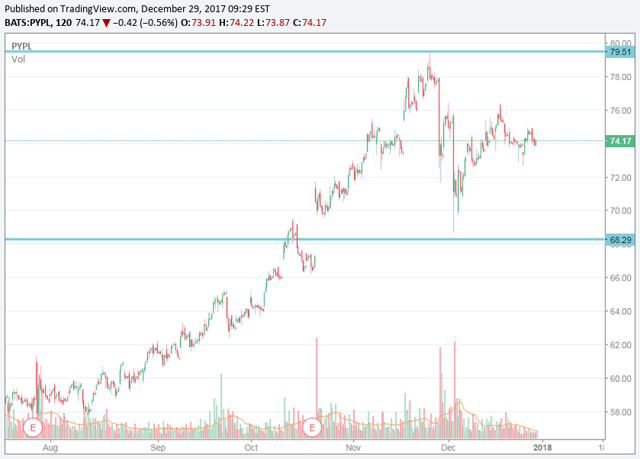 Source: Tradingview
Risks do remain – a fumble of the Venmo play could hamper the company's whole mobile payments concept and a security breach is always a possibility in today's environment. But at this point in time there are no indicators that there is a confirmed threat to the optimism surrounding the company or its sector.
Disclosure: I/we have no positions in any stocks mentioned, and no plans to initiate any positions within the next 72 hours.
I wrote this article myself, and it expresses my own opinions. I am not receiving compensation for it (other than from Seeking Alpha). I have no business relationship with any company whose stock is mentioned in this article.
About this article:ExpandAuthor payment: $35 + $0.01/page view. Authors of PRO articles receive a minimum guaranteed payment of $150-500.Tagged: Investing Ideas, Long Ideas, TechnologyWant to share your opinion on this article? Add a comment.Disagree with this article? Submit your own.To report a factual error in this article, click here